Project: GREY is done.
Let's clarify:
The 1st draft of my middle-grade, science fiction adventure, the 1st of many drafts, is done.
In a mentally exhausting, eyeball straining, not-since-college 4-hour writing session on Saturday, I finished my book. Once the ending was within viewing distance, the beautiful ending which eliminates the stank of the gross middle part of a book, I had to floor it. Finishing it was a necessity. Everything else got pushed out of the way.
Yes. Even Kingdom Hearts III.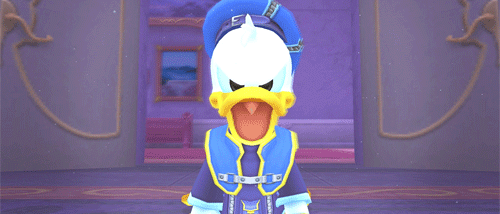 Donald isn't happy with me…
But that's what you do for your art. You push aside everything else that isn't it.
So, the plan.
This is 1 part explaining my process and 2 parts getting it out there so I know what the heck I plan on doing. Currently, the 1st draft is printed, sitting in my top desk drawer, doing nothing but calling out to me. However, this is my chance to get it out of my mind and go back later with a clear head. I'm not looking at it or thinking about it. I have a week off! A break from writing, and it feels great.
But!
The real work begins this Saturday, February 9.
Edits.
I've written about this book plan in great detail before, so I won't go too much into detail, but I will share some self-imposed deadlines.
The 1st draft, the messy, half-thought-out mess of the story I had in my head, is done. The deadline for that was January 31, but I finished on February 2. Only a 2 day delay, but if I even want to make it in this field, I need to get better. So the edits begin then. 2nd Draft. Red pen. White paper. Fix them typos and bad sentences, yo.
This 2nd draft is due March 15, a little more than a month.
Following that, I'll probably take a week off from daily edits, before I get into the 3rd draft on the computer. This is when I take the 2nd Draft pen edits and fix them on the computer, while making the vast, sweeping change I would have noted to myself. (Erase this paragraphy, add more detail here, delete this entire chapter, etc.)
This 3rd draft type-up is due April 30.
Finally, a 4th draft. This is after beta readers have their way with it. Telling me what makes sense, what doesn't, how it flows overall, and so on. From there, I make more changes on the computer. Hopefully making it as best as I can based on the multiple read throughs.
This 4th draft fixing is due May 31.
And that'll be it. Unless there's something DRASTIC that needs to be fixed, some kind of story tumor which needs to be surgically extracted, I plan on researching agents, getting my pitch in order, then hopefully sending it out this summer.
This summer.
That's the goal.
Write the book.
Edit it.
Send it out.
Write the next one.
Oh, and I got new projects going too. My calendar is filled up, quite possibly too much with my schedule which could lead to me having a nervous breakdown, but, man, it felt gooooooooood to finish a writing project. I want to do it again, and again, and again.
---
Thanks for reading,
Twitter: @robacosta
Instagram: @robacosta
Tumblr: RobAcostaTumblr

Contact: robertmichaelacosta@gmail.com
Check out mine and Arnie Bermudez's webcomic, The Juan!