There's a sensation that goes through your body before you begin working on a project you haven't started in a while. I recently experienced this, became aware of it, and engrossed myself in the moment.
Then write about it. Because that's what you do when you're writing a blog about learning to become a writer with no actual, formal training.
You write about it.
I sat down to begin a writing project I started a couple of months ago. There's an idea for a short, middle grade horror novella that's been buzzing around in my head for over a year now. It was one of those awesome ideas that writes itself.
Title, Conflict, Character, BOOM. Story.
I still really believe in the idea, but this is back when I was submerged in my writing rut. Couldn't get anything done, and no matter how hard I tried, it felt like I was pushing through awful, work-blocking sludge. But now that I'm sort of back in the game, editing as much as possible, planning out the rest of my year, I felt like it was a good time to take a look back at it. Because after all, according to Neil Gaiman's 8 Rules of Writing:
1) Write

2) Put one word after another. Find the right word, put it down.

3) Finish what you're writing. Whatever you have to do to finish it, finish it.
So I say. Keyboard pulled forward to the appropriate placing, my tushie adjusted on the seat, ceiling fan on, desk lamp switch flipped, and then, before I started looking over the last page I wrote, I froze.
There was a brief second where my entire body stopped, became all hot, and started to sweat a little bit. Quickly, my heart rate increased and I became uncomfortable. What was happening? Was I having a stroke? An aneurysm? IBS? There was no reason for the way I was feeling now compared to how I felt literally seconds before my eyes settled on my laptop screen. For a few moments I let myself drown in it for a bit.
This has happened before.
This exact sensation.
I'm just curious if anyone else has this happened to them when they open up a project that they have not worked on in a long time. In my mind, I translated this as guilt.
Guilt for being unable to tend to a project. For leaving the story hanging. For abandoning characters and their problems. "Sorry, Derek! I know you're hanging off a cliff over a pool of molten lava and used heroin needles, but I promise I'll be back!"
*never comes back
Whatever the reason, as I sat there staring at my screen, I took one big deep breath.
Yes. I tricked you. This is a breathing blog that teaches you all about the upsides of breathing and we, as humans, are garbage breathers. Sorry. But seriously, that one breath dispelled the flames of my body, and I was able to break the pressure that I was feeling.
Because that's all it is, right? Self-imposed pressure which we need to take a quick second to accept, then move on.
We all feel guilt and we don't get the work done that we think we need to get done. But we need to be more forgiving of ourselves, and understand that maybe the story we want to tell is not the right one for that right moment. So when your body starts to get tense, get a little hot in the pants, and maybe a bit of sweat starts to form on your brow, just remember: it's OK.
Deep breath.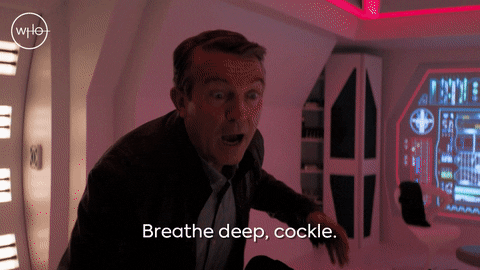 ---
Thanks for reading,
Follow me:
Twitter: @robacosta
Instagram: @robacosta
Tumblr: RobAcostaTumblr

Contact: robertmichaelacosta@gmail.com
Check out mine and Arnie Bermudez's webcomic, The Juan!